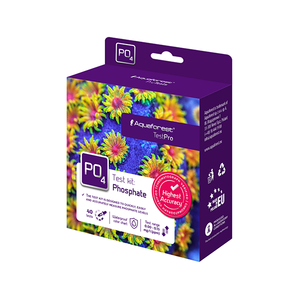 AF Phosphate TestPro is designed for quick measurement of phosphate ions in a marine aquarium. Phosphate is a breeding ground for the growth of undesired algae, so it is very important to constantly monitor its concentration in marine tanks. In addition, a high concentration of phosphate may be harmful to corals. Phosphate levels in the marine aquarium should not exceed 0.02 mg/l (ppm). This Test Kit contains sufficient reagents to perform 40 tests of phosphate concentration.

Box contents: 

Reagent A-PO4 bottle

Reagent B-PO4 container

1 test vial with a screw cap

Syringe – 5 ml

Syringe – 1 ml

Measuring spoon

Instruction manual

Color chart
Price and Stock Availability Subject to Change without prior notice.